Why Customers Love The Garlic Chop
Testimonials - thank you!
Ordered, thanks again, I also copied a link to your webpage on my FB and touted your product. I don't have many "gadgets" as I am a very hands on cook, but I love your product.  Have a great day.  

Wendy B
I have previously ordered 2 garlic chops from you and I LOVE the product!!


Yasmeen K.
It came in the mail today.  I minced some garlic even though I didn't need to. So awesome…  Just so you know, I found your product when I Bing searched "Garlic mincer that doesn't suck."  Very glad I did. Just threw away every other mincer I have tried. Thanks! 


Daniel C.
I received my garlic peel today and it works great! Thanks so much for sending it out. I love it!!! You guys make great products. I will be sure to tell my friends how great your products are and about the great customer service you give. Thanks, 

Jessica Z.
I like How easy it is to wash!  The bright green color and ribbed texture also make it stand out in my drawer,


Mapeline F, AllRecipes Magazine
Hi Folks,  I love the looks of your two products.  I ordered one set. googled "how to chop garlic". I take two cloves a day.  I cut them laboriously with a knife   I needed something faster for both peeling and smashing to a pulp.   Haha. There you were.  Good luck with your business. 


MaryKay C.
Mommy, mommy!  I want a Garlic Chop for Xmas, not an Xbox!

Boy, 9yrs old - Perth Garlic Festival 2018
How to Chop Garlic the Easy Way
Get all the nutritional benefits of garlic without all the work with The Garlic Chop. Simply twist the chopper back and forth until desired consistency. When satisfied, push the button at the bottom of the garlic chopper to raise. Scrape the chopped veggies to garnish your dish. Unlike a garlic press or mincer, The Garlic Chop reduces waste and is easy to wash. Watch the video below to see the kitchen tool in action!

The more you turn, the finer it gets
Chop garlic, ginger, radishes, hot peppers, and even carrots
Multiple cloves at a time
Patented push-button rising plate for easy cleaning

Buy Me Now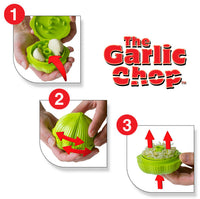 How to Peel Garlic the Easy Way
Who likes peeling garlic, anyways? Avoid the scent of garlic lingering on your fingers with The Garlic Peel. Simply place the clove in one end, roll back and forth, and take it out of the other end, peeled. Watch how it works!
In one end, out the other peeled

Don't you just want to eat?
BUY ME NOW
Must Have Garlic Kitchen Tools
Garlic Apperel, for garlic lovers only!